Slovak officials kill another Rom
15 August 2001
Slovak media reported on July 7, 2001, that officials had killed 51-year-old Mr Karol Sendrei during the night of July 5-6 at a police station in the town of Revúca, approximately 50 kilometres west of Košice. According to press reports, following a fight in which Mr Sendrei was allegedly involved in a local bar in the village of Magnezitovce on the evening of July 4, Mr Ondrej Hudák, a police officer, went to the home of Mr Sendrei and, according to eyewitnesses, hauled him out of his home, and "in front of screaming kids and women gave him a brutal beating." In the late afternoon of July 5, Mr Sendrei reportedly went to the home of Mr Ondrej Hudák Sr, mayor of Magnezitovce and father of Officer Hudák. There, upon entry into the house, he was allegedly knocked to the floor and severely beaten by Ondrej Hudák Jr. The mayor himself reportedly joined in the beating. Mr Sendrei's wife and three of his sons subsequently went to the home of Mayor Hudák. The widow of the victim was quoted in the July 9 edition of the Slovak daily SME as stating that when she came to the house, "He was completely beaten. His teeth were knocked out and he lay motionless on the ground of the mayor's yard." Mr Sendrei's sons reportedly came to his aid and a brief but intense fight ensued between the three sons on the one hand and the mayor and his son on the other. Two police officers on patrol reportedly arrived by chance, and one of the three sons fled, while a second was caught while attempting to flee. Still in the late afternoon, the officers detained Mr Sendrei, his 32-year-old adopted son Mr Robert Gunár and 28-year-old son Mr Peter Sendrei, and took them to a police station in the town of Jelšava, and then to a hospital in Revúca. There, a doctor reportedly concluded that Mr Sendrei's wounds were not serious, and approved of his detention in Revúca.

At the police station in Revúca, all three men were reportedly handcuffed to a radiator. Mr Gunár was quoted in an article appearing July 9, 2001, in SME as stating: "They handcuffed us to a radiator in the hall. They did not interrogate us. They continuously beat, kicked and battered us with truncheons. They struck me in the head with a handgun and when I screamed out from pain for them to please shoot me, they said I was damaging their weapons and they beat me some more." Mr Gunár stated that officers beat all three men for a period of approximately twelve hours, throughout the night of July 5-6, 2001. Regarding the death of his father, Mr Gunár was further quoted in SME as stating: "My brother and I noticed that our father wasn't moving and so we called the police over. They noticed that we were right and called a doctor, but it wasn't possible to revive him. Our father died next to us on a radiator." According to reports by the Czech Press Agency of July 28, 2001, the autopsy report concluded that Mr Sendrei had died of shock caused by a torn liver, cranial and pericardial bleeding, a broken jaw, sternum and ribs, and other serious, unspecified, injuries. The daily Nový Čas reported that Peter Sendrei had been admitted to hospital with a concussion, while Mr Gunár had dark purple marks around his eyes and line bruises on his abdomen.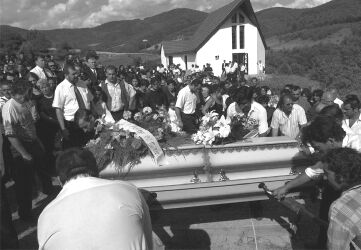 The funeral of Mr Karol Sendrei, July 2001, Magnezitovce, Slovakia.
Photo: Roman Magdolen
SME reported on July 10 that Mayor Hudák and Mr Ondrej Hudák had been charged with damage to health resulting in death and that 30-year-old Mr Miroslav S. and 24-year-old Mr Ján K. - both police officers - had been charged with abuse of authority and damage to health. A judge in Banská Bystrica is reported as having refused a request by an investigator to remand the four men into custody. According to an article in Nový Čas also on July 10, 2001, the two officers from Revúca deny having beaten the men in custody. Police spokesperson Mr Marián Jankovič stated that Mr Sendrei had died as a result of wounds sustained in the yard of Mayor Hudák. The three sons of the victim have been charged with disturbing the peace and attacking a public official. Slovak Interior Minister Mr Ivan Ĺ imko has stated publicly that he would personally supervise the investigation. Press articles about the case have featured hand-wringing as to whether the killing threatens Slovakia's accession to the European Union.

Police abuse of Roma in Slovakia is endemic. This is the second death of a Romani person in police custody in Slovakia in less than two years (see "Snapshots from Around Europe", Roma Rights 3/1999, on the Internet at: http://www.errc.org). Officers are rarely if ever punished for physically abusing Roma. More information on human rights abuse of Roma in Slovakia, including physical abuse by police officers, is available on the Internet at: www.errc.org.
 (ERRC, Nový Čas, Právo, SME, TASR)