Violence against Roma in the Czech Republic
07 May 2002
Czech media reported that on January 28, 2002, at approximately 2:00 AM, a group of between fifteen and twenty skinheads attacked an apartment building inhabited by Roma in the Nusle quarter of Prague's 4 district, injuring at least one Romani man severely. Witnesses to the attack called the police, who reportedly arrived at the scene immediately and managed to detain a number of the attackers. According to the police, one of the attacked Roma was beaten badly, and reportedly lost a tooth.

Police also told the media that one of the attackers fired a gun at least twice, but no one was hit by the bullets. The police report that a witness told them that a man with a special tattoo threatened the Roma with violence. The national daily Mladá Fronta Dnes of February 14, 2002, reported that one of the suspects in the crime, 20-year-old Mr František Sobek, is a member of the neo-Nazi organisation Narodní Odpor and is currently accused of several racially motivated violent crimes.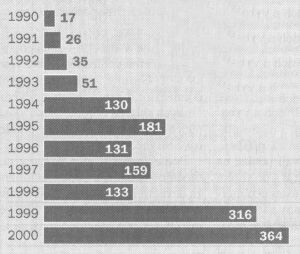 Numbers of racially motivated crimes occurring in the Czech Republic, according to figures provided by the Czech Interior Ministry to the daily newspaper Mladá Fronta Dnes. According to the Interior Ministry, in 2001 there were 402 such crimes, a roughly 3-fold increase over 1998 figures, and around 25 times the number of such crimes occurring in 1990. The ERRC regards Interior Ministry figures as useful in showing overall trends. However, the figures themselves are very likely an undercount, and possibly a significant undercount: The Ministry applies a strict standard for what counts as racially-motivated crime, discounting, for instance, in some cases, crimes in which perpetrators were not explicitly overheard shouting racist epithets, though other evidence might have pointed to racial animus.
In February 2002, Mr Vojtech Lalík, the Romani advisor for Prague's 4th district, informed the ERRC that one of the victims told him that they do not want to file a complaint, due to fear of further attacks, and have asked City Council to resettle them in a safe place. According to Mr Lalík, the same person informed him that the city refused this request.
The State Unit for the Elimination of Organised Crime has reportedly taken over the case, and two police officers of the unit are investigating. Officers Bláha and Kopečný informed the ERRC in February 2002, that the injured parties have refused to file a complaint and until they do so, the police cannot accuse anyone. Therefore, all of the detained suspects have been released. On February 27, 2002, the local monitor for the ERRC in the Czech Republic filed a complaint for suspicion of crime committed by unknown perpetrators with the Municipal State Attorney Office in Prague's 4th district.

The ERRC learned on February 28, 2002, about another instance of violence against Roma in the Czech Republic. On October 13, 2001, at about 2:45 AM, a young ethnic Czech, Mr M.D., attacked a group of young Roma at a bar called Kavalír B in Hradec Králové, northeastern Czech Republic, injuring Mr Marian B. and one other person. Mr M.D. reportedly shouted racial slurs during the attack, and one Romani man was reportedly stabbed. According to Mr Marian B.'s attorney, Mr Stanislav Fišer, following the attack, Mr M.D. allegedly spent several weeks in police custody, but has reportedly been set free. On February 6, 2002, he was reportedly indicted under Article 196(1) of the Czech Penal code, for violence against a group of inhabitants or individuals, and Article 222(1), for grievous bodily harm representing a danger to life. According to Mr Marian B.'s attorney, the first trial date has been set for May 22, 2002.
According to a March 12, 2002, report by Radio Free Europe/Radio Liberty (RFE/RL) quoting Interior Ministry official, in 2001, 402 racially motivated crimes were investigated by the police. Racially motivated crime is on the rise in the Czech Republic: the current figures indicate a 3-fold increase in attacks since 1998. Information about discrimination and violence against Roma in Czech Republic is available on the Internet at: www.errc.org
(Counselling Centre for Citizenship/Civil and Human Rights, ERRC, Mladá Fronta Dnes, RFE/RL)