Who is this Krisztina Rostás? - One Romani Woman Testifies About Extreme Poverty in Hungary
07 May 2002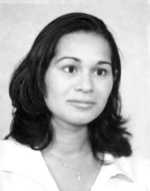 On February 1, 2002, the ERRC interviewed Ms Kristina Rostas, a Romani university student in Budapest, about her life to date. This is what she told us:

My name is Krisztina Rostás. I was born on May 20, 1979, in Miskolc, and now I live in Ároktő, which is a tiny village in Borsod-Abaú j-Zemplén County, northern Hungary, where many Roma live in very poor conditions. My mother is in a state-run home because she is mentally ill. My father and my grandmother have taken care of me since I was very young. Now I live with my father only, since my grandmother has unfortunately died.

I grew up in Ároktő and went to grammar school there. Afterwards I could not get into any secondary school, for two reasons: I was born without one arm, so I was not able to go to technical school, and I did not hav e good enough grades at grammar school to get into high school. I tried the bakery and dairy industry trade schools, but I was rejected because of my handicap. There is a gardening school in Budapest for physically handicapped children. We came to Budapest to visit the school, but we were so poor that I couldn't move to Budapest to attend. This was the hardest time of my life. I tried to find a job, but I was not able to. I tried to continue studying, but I did not have the opportunity. I started to write letters to foundations, high schools, technical schools, trade schools, but most of the time I did not receive any response, and if they responded, they always rejected my application.

Then I thought that I should try and visit these schools in person. Sinc e I did not have money for a bus or train ticket, I hitchhiked to Mezőcsát, Mezőkövesd, Miskolc and Tiszaújváros. I visited a lot of schools, talked to the directors, showed them the pile of letters I had sent, and those that I had received from schools a nd workplaces, all with the same message: "I am sorry to inform you that we are not able to accept your application." I was 14 years old and I tried everything to get a chance, but unfortunately I was rejected everywhere. I felt very bad, it was a terrible year for me.

I also went to the regional labour centre and tried to apply for a course, but there were no real possibilities. I would have only been able to become a dress- or shoe-maker, which were not options for me since I could never get a job with only one arm. Later I started a French language and accountancy correspondence course with the help of the labour centre, but I had to give it up, because I did not have enough money to pay the tuition fee.

On September 12, 1995, I went to Miskolc again, though I knew that the school year had already started. There I saw an advertisement for a preparatory course for the University of Miskolc which was still accepting applicants. I was so silly that I didn't even know that you need to graduate from high school before you can go to university. I went to the University of Miskolc and talked to an elderly gentleman who organised this course. Of course he saw that I was only a silly 15-year-old girl, but I explained to him that I had come there because I wanted to study, and told him my story. Of course he said that he could not admit me, but he promised that he would try to find me a job. I was very happy. I went home by bus, because he gave me some money for the ticket. I met some students on the bus whom I knew fr om Ároktő. They were a few years older than me and were travelling home from high school. I asked them if their high school still admitted students, and they said that they heard that there were still five open places. I decided to try this school again, though I had been there twice already. I went to the director, who must have felt very embarrassed when he saw me there again, but I asked him to listen to me, just for a few minutes. He is the kind of elderly man who always has a strict look on his face but who is a very good person. He invited me to his office, where we sat down and started to talk. I talked non-stop, and he did not interrupt me. I told him that I wanted to study so much, that I was sorry that I had not focused on studying during grammar school, and that I did not have very good grades. I told him that if I had a chance I would be very diligent. I told him how many things I would like to do in my life and how much I would like to help people and while I was talking to him, he looked through the pile of papers that I had brought with me. At the end I added that if he would accept my application, he should be aware that I was so poor that I could not afford to pay for my own transportation to school. When I finished, he just stared at me. I remember he said: "You do not have money, you do not have adequate grades, and you want to go to school?" I answered that I was just asking for one single chance. He stood up, went to the window and asked me, "Do you have any meetings for Monday?" I said "No." "Do you have a bag?" "No, I don't." "Do you have enough money to come to school on Monday?" I said "No." "Then you are admitted," he said. I could not believe what I heard. I was so shocked that for minutes I could not stand up from the chair. When I left his office, he said: "Don't forget to come to school on Monday!"

I started going to school on Monday. My classmates were very kind; I loved them very much. I still keep in touch with some of them. My best friend studies at the Debrecen Medical University. Generally, they had a positive attitude towards me. During the first few days I was always late. During the first week, my history teacher asked the class "Who is this Krisztina Rostás who received the lowest grade on this easy test?" When I introduced myself, she said that she wanted to talk to me anyway, because I was always late, and I didn't take notes during her classes, and she wanted to know why.

At first I told her that I came to school by bus, and the bus was always late, which is why I arrived late to school. Unfortunately I had a classmate who came by the same bus, and she said that she had not seen me there. Then I said that it was because I usually came by car, and the reason for my delay was that sometimes my father could not get up early e nough. After her questions, I had to confess that I got up at 6 to hitchhike. If I was lucky, I got to the school by 8. If not, I was late. (Otherwise, to get to the school from Ároktő takes about 10 minutes; in 1995 the trip cost 25 forints (approximatel y 0.10 euros)). Then she grabbed my hand and took me to the director's office, talking to me on the way. I told her that I was very sorry, I could not take notes in her classes because I did not have an exercise book. So the school bought some exercise book s for me and the director called and asked the municipality of Ároktő to pay for my meals at the school and for a monthly bus ticket. My history teacher bought me the bus ticket for the first month and frequently brought food to the school for me. I borro wed some books from the school library and also sometimes used the books of my classmates.

The first year was very hard for me since I had missed a year of studying and I had very bad grades. I also started to work for Melódiák1 in Miskolc. I distributed newspapers every morning, sold telephone-subscriptions as an agent in the afternoons, stuffed envelopes with advertisements, and took various occasional jobs that I could do with one hand. This was my daily schedule during high school: I woke up at 3:15 every morning, went to Mezőcsát by bus, and distributed the newspapers. Then I went to school, where I stayed until about 13:30. I sold phone-subscriptions during the afternoon, then went home and did the shopping and cooking, because my grandmother was ver y ill at the time. Afterwards, I sat down and studied during the evening and night, like other students, but it was hard for me, because we did not have electricity. It had been turned off because we could not pay the bills. My grandmother was a very creative Romani woman with great practical knowledge; she knew how to compensate for the lack of these modern technical things. She made "tatarka," which meant that she put a piece of cloth in a spoonful of grease and lit it. I studied by this light. Then my kind history teacher paid our electricity bill, so the power was turned on.

Our average monthly income was about 18,000 forints (approximately 75 euros) – the disability pension of my father plus the family aid2 we received. It was hardly enough for food, and we could not spend it on anything else. My history teacher had two daughters who were about the same age as me and I got a lot of dresses from them. She was very kind to me. Sometimes I spent the night at her house. She helped me a lot during those years. She tutored me in history and helped me prepare for university. I loved going to high school: I had wonderful teachers, and very nice classmates, whom I adored. I would not be here if I hadn't had those teachers.

I never felt embarrassed because of my situation, and I always studied in order to fight against the poverty and disadvantages I had. In my second year of high school I began preparing to go to college to become a teacher of religion and history, because I am a very religious person. I occasionally volunteered at institutions for the handicapped and elderly. My history teacher quarrelled with me about it a lot, because she thought that I should spend my free time resting or studying instead of volunteering. But I always tried to explain to her that there was nothing more important to me than helping people. But studying and working once led me to complete exhaustion, and I ended up in the hospital.

In my fourth year of high school I participated in a preparatory course for the ELTE University at the Kurt Levin Foundation, a non-governmental organisation. As a third-year high school student, I could successfully apply for a scholarship from the Soros Foundation and this scholarship enabled me to take part in this course. The following year I came to Budapest to attend classes every Saturday. Some university teachers helped us prepare for the entrance exam. My history teacher and my priest encouraged me a lot.

I graduated from high school in June 1999. Though I never thought I would be able to, I managed to get into university, in the faculty of social politics. Now I am a second-year student in Budapest. With the help of my teachers, at the beginning of my studies I got a job at the Secretariat of the Department of Social Politics. In September 2001, I started an additional course of study at the university, so now I study social politics and political theory. I love studying. I always thought it was my only chance to get out of the situation I lived in. I always wanted to be clever and have great knowledge, and this has motivated me through every difficulty. I had a lot of help in this. My father is a wonderful person; he always stands by my side and is very proud of me. I go home to see him every weekend. He still lives under very hard conditions: He receives a disability pension of 14,000 forints (approximately 55 euros) and is seriously ill. He goes to the hospital frequently, so he needs my support.

I receive a scholarship from the university, from the Foundation for the Hungarian Roma3 and as a member of the Romaversitas.4 In addition, I take free English classes. I also have a personal tutor at the university. Now I am able to live on what I receive and support my father as well.

I have a lot of friends. I live in a student hostel, which is the best place to meet people my age. We frequently spend our free time together, go to the movies, theatre or pubs. Last summer I went to Lake Balaton with some friends. It was one of my dreams to see the lake.

I am trying to continue to live as I did in the countryside, so in my free time I still volunteer. I started as a social worker at the State Institute of Blind People, first dealing with adults, and now also with children. I teach them religion and history and work with mentally disabled children. I want to share with them what I got from God. I am grateful to Him for the many beautiful things I experience in my life.

In the future I would like to work to improve the situation of Roma in society. I consider education a key issue in this. I hope that the knowledge I have received at university and what I have received from God will enable me to help people. It is frequently said that Roma do not want to work, that they are too lazy to work, and that is why they live in bad situations. I know that in my region there was no possibility to work, and if a company did hire a few people, they were not willing to take on Roma. I have also heard about such discrimination here in Budapest. I had a Romani classmate who applied for a dishwasher job at a fast food restaurant and was told they did not need any more people. However, we knew that they hired another friend of ours, a non-Romani student, half an hour later. It is a pity that many people in Hungary do not accept that a Romani university student is good enough to be a dishwasher. Roma cannot take a valuable role in a society that considers them useless.
Endnotes:
Melódiák is a company at the University of Miskolc that provides students with occasional jobs.
Family aid is a social benefit that each family or single parent is entitled to receive from the Hungarian State for each dependent child, regardless of the economic situation of the family.
The Foundation for the Hungarian Roma (Magyarországi Cigányokért Közalapítvány) is a foundation established by the Hungarian state in 1995 to support measures taken by the state to reduce disadvantage among Roma in Hungary.
Romaversitas is a non-governmental foundation that provides financial and professional support for Hungarian Romani students.