Hungary: What's actually new about Viktor Orbán's latest racist outburst?
29 July 2022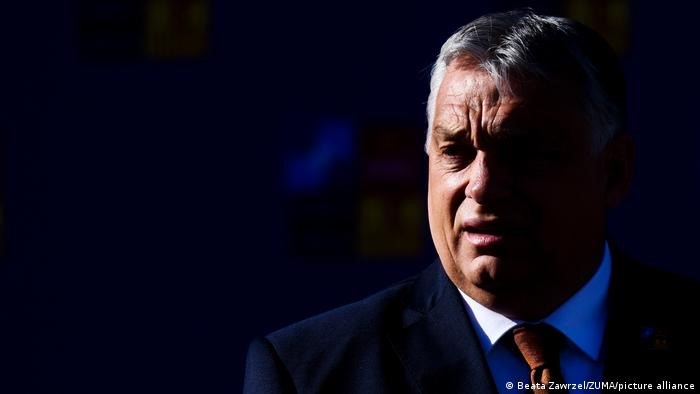 "This is why we have always fought: we are willing to mix with one another, but we do not want to become peoples of mixed-race."
(Viktor Orbán, 23 July 2022)
Despite the scandal, shock and awe following Viktor Orbán's speech in Baile Tusnad (Tusnádfürdő), the fact is that there's nothing new about the Hungarian Prime Minister's lurch from cultural to biological racism; nothing novel about his ministers' attempts to whitewash his remarks; and nothing new about the silence from Brussels.
What was new was a break in the Fidesz ranks – where dissent is rare – with the shock resignation of one of Orbán's closest advisors and oldest friends, sociologist Zsuzsa Hegedüs, who quit just four days after his scandalous speech – a speech she described as "worthy of Goebbels."
Kedves Barátaim! Dear Friends! We have entered an age of danger …
The key race-mixing comments were omitted from the English summary sent to MEPs by the head of the Fidesz EP delegation Tamás Deutsch. In Vienna, Orbán repeated the Fidesz mantra that his regime has 'zero tolerance for racism and antisemitism, and claimed that his remarks represented a "cultural, civilisational standpoint". So, for the record, in all its toxic and garbled glory, here is the official transcript of the offending segment, taken from the Hungarian government's own website:
In such a multi-ethnic context, there is an ideological feint here that is worth talking about and focusing on. The internationalist left employs a feint, an ideological ruse: the claim – their claim – that Europe by its very nature is populated by peoples of mixed race. This is a historical and semantic sleight of hand, because it conflates two different things. There is a world in which European peoples are mixed together with those arriving from outside Europe. Now that is a mixed-race world. And there is our world, where people from within Europe mix with one another, move around, work, and relocate. So, for example, in the Carpathian Basin we are not mixed-race: we are simply a mixture of peoples living in our own European homeland. And, given a favourable alignment of stars and a following wind, these peoples merge together in a kind of Hungaro-Pannonian sauce, creating their own new European culture. This is why we have always fought: we are willing to mix with one another, but we do not want to become peoples of mixed-race. This is why we fought at Nándorfehérvár/Belgrade, this is why we stopped the Turks at Vienna, and – if I am not mistaken – this is why, in still older times – the French stopped the Arabs at Poitiers.
'Worthy of Goebbels … a pure Nazi text'
Orbán was clearly spoiling for another bout in his culture war with the 'woke internationalists of the post-West', regurgitating the 'great replacement' theory, describing Jean Raspail's racist novel 'The Camp of the Saints' as a great book, and claiming that "the West is divided. One half is a world where European and non-European peoples live together. These countries are no longer nations … by 2050 the final demographic change will occur: in that part of the continent in the big cities, the proportion of people of non-European origin rises above 50 percent …"
But while he was wilfully courting liberal outrage, he could never have expected that the most cutting and excoriating condemnation would come from within his own circle. In her resignation letter, leaked to the magazine HVG, Hegedüs wrote, "That you are able to deliver an openly racist speech would not occur to me even in a nightmare", one which would have been liked by "the most bloodthirsty race haters."
Hours later, a letter from Orbán surfaced on Twitter, with the utterly disingenuous assertion that: "In Hungary my government has a zero-tolerance policy on anti-Semitism and racism. According to my understanding, God created all people in his own image. Therefore, in the case of people like me, racism is excluded ab ovo."
In response, Hegedüs stated, "unlike you, I was born a year after the Shoah", invoked the memory of her parents who survived the genocide "because of their extraordinary fortitude and even more extraordinary courage", and stated that the horror could only have happened because too many people were silent in the face of Nazi hatred.
The sound of silence from Brussels
There was nothing new in the silence from Brussels. Luxembourg Foreign Affairs Minister Jean Asselborn told POLITICO that in identifying himself with the ideology of white supremacists, Orbán had committed a "breach of civilisation", and his comments represented a "flagrant violation of the spirit and the letter of the [EU] Treaty" and the EU Charter of Fundamental Rights, undermining the EU's "credibility as a community of values."
For its part, the Commission declined to comment, with spokesman Eric Mamer citing an apparent policy that it never comments on political speeches. In the end, the most they could muster was a Timmermans 'all different, all equal' tweet, where the vice president of the European Commission deplored racism in general, without mentioning any racist in particular.
Orbán: misunderstood and maligned
Hungarian Foreign Minister Szijjártó dismissed all accusations of racism as 'nonsense', repeated the 'zero tolerance in Orbán's heart for anti-Semitism and racism' mantra, and claimed that since the migration crisis of 2015, "every similar statement gets twisted". Zoltán Kovacs from the Prime Minister's office, and likely author of the notorious speech, doubled down to insist on Orbán's consistency on the matter.
He stated that "we managed to find not one, not two, but 63 speeches and interviews from the last seven years when the prime minister touched upon the problems of mixing radically different peoples and cultures." He then stated that those who misinterpret Orbán's speech "clearly don't understand the difference between the mixing of different ethnic groups that all originate in the Judeo-Christian cultural sphere, and the mixing of peoples from different civilizations."
Nothing new: 'Viktor Orbán's racist rhetoric is increasingly delusional'
Claims by Orbán that this is a 'civilizational matter' not a racial issue, have cut little ice with those outside the far-right tent. Back in 2018, UN High Commissioner for Human Rights Zeid Ra'ad al-Hussein called out Orbán as one of Europe's xenophobes and racists who have "cast off any sense of embarrassment", and described a speech by Orbán where he said "we do not want our colour... to be mixed in with others" as "a clear-cut statement of racism … an insult to every African, Asian, Middle Eastern or Latin American woman, man and child."
At home, Orbán described Hungarian Roma as a historical burden, and following a court case on school segregation in 2020, made the move favoured by white supremacists and nativists worldwide by portraying the ethnic majority as the victims: "Non-Roma began to feel that they had to back down and apologize, despite being the majority. They feel like they are in a hostile environment in their own homeland."
In 2018, Commissioner Zeid Ra'ad al-Hussein described Orbán's racist rhetoric as 'increasingly delusional': he has "managed to portray Muslims and Africans as an existential menace to Hungarian culture – a threat he alleges is masterminded by the Hungarian-American financier George Soros."
He stated that to hear such speech "unabashedly expressed by the leader of a modern, European Union country should outrage every one of us", and that it was time to stand up to bullies like Orbán. His verdict in 2018 was that "the increasingly authoritarian – though democratically elected – Viktor Orbán is a racist and xenophobe." So, nothing new: true then, true now.