Outrage as Czech neo-Nazis guilty of 'Natálka atrocity' get parole and walk free
12 May 2023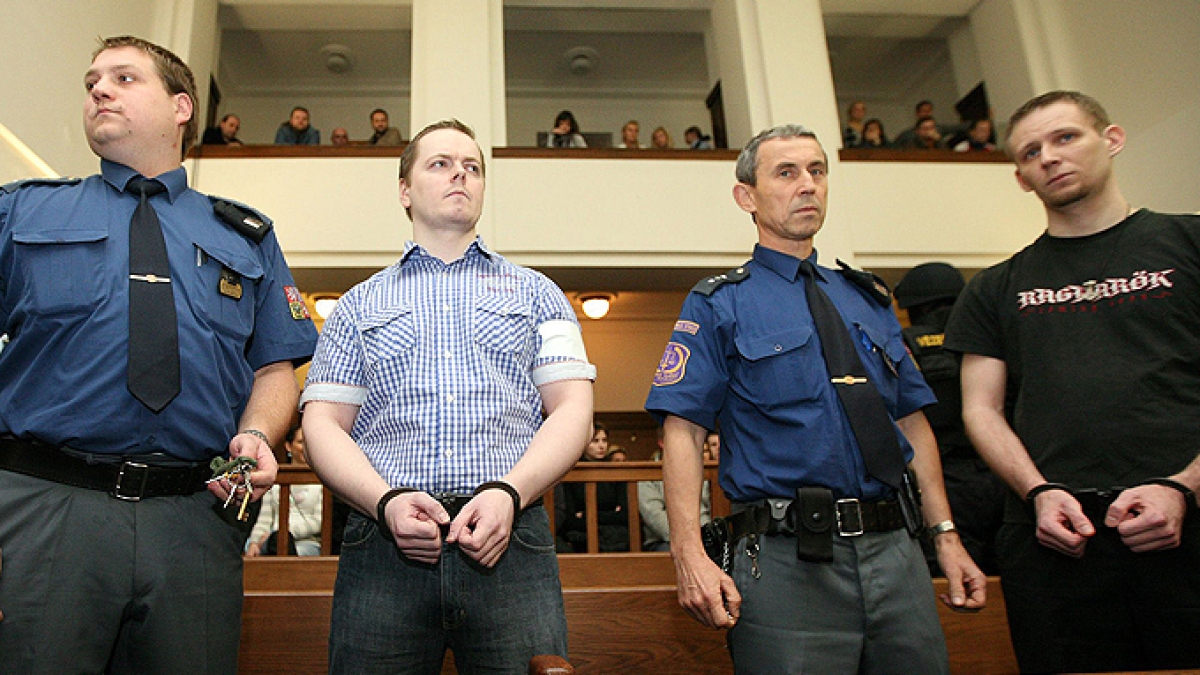 Two neo-Nazis convicted of a horrendous firebomb attack on a Romani family in 2009, that left toddler Natálka Kudrikova with 80% burns, were freed on parole today after serving just two-thirds of their 20-year sentences. The victim's mother said she was sickened by the decision which has come as a complete shock and left her three daughters feeling deeply afraid.
The attack on the family home in Vítkov, which left three people injured, was organised to 'honour' Adolf Hitler's birthday. The four assailants who were active members of North Moravian neo-Nazis, set the family home ablaze with Molotov cocktails, inflicting horrific injuries on the child as she slept.
Natálka's attackers who walked free this week, who were given positive prognoses by a clinical psychologist, and received dozens of disciplinary commendations in prison, claimed they were 'naïve' and foolish at the time of the attack, and think differently now.
In the years following the racist attack, Natálka, who also lost three fingers, had to undergo dozens of painful surgeries, and to this date the deeply traumatised girl requires round-the-clock attention and care. Lucie Fuková, government representative for Roma minority affairs, stated that she was "personally and morally shocked by the decision of the Šumper court, which released two arsonists from Vítkov on parole."
This move comes just 10 days after Hungarian President Katalin Novák mark the occasion of a Papal visit to Hungary by issuing a pardon to convicted far-right terrorist György Budaházy; and just months after the release of one of the neo-Nazis convicted for his role in the Roma serial killings in Hungary between 2009 and 2010. As well as the worrying leniency towards fascists, these releases provide a grim reminder that the attack on Vitkov was not an isolated incident but part of a wider upsurge in deadly anti-Roma violence orchestrated by neo-Nazi groups across Hungary, Slovakia and the Czech Republic between 2008 and 2010.
2008-2010: A pattern of extremist anti-Roma violence
The report Imperfect Justice by the ERRC registered the following attacks on Roma between January 2008 and December 2010:
In Hungary, 48 attacks against Romani lives and property were registered. These attacks claimed a total of nine lives, including two minors. The attacks left dozens of people with injuries, 10 of which were life-threatening. In 12 cases Molotov cocktails were used; in two cases hand grenades. In 12 cases shots were fired and in nine cases Romani property was vandalised.
In Slovakia, the ERRC registered 10 attacks in Slovakia, which claimed the lives of two Roma, and wounded eight, including two minors. In five cases, shots were fired.
In the Czech Republic, 17 anti-Roma attacks were registered, which left 11 people, including two minors, with injuries, two of which were life-threatening. In eight cases Molotov cocktails were used; one case involved a tear gas grenade, and in another, shots were fired.
The ERRC also monitored the State response in 44 of the most violent anti-Roma attacks reported to police in the three countries. It found that the judgement in the Vitkov arson case was "far from the standard response to anti-Roma violence in the Czech Republic." In a number of other cases which received far less media attention, suspects were either not identified, or the racial motive of the attack was not confirmed. Often, attackers left the court with only suspended sentences. In one case, a well-known neo-Nazi who targeted Roma in a series of violent street attacks, was sentenced to 400 hours of community labour, which hardly matched the severity of his crime, or took into account his affiliation with White Justice, a network of paramilitary cells which had planned audacious terrorist attacks on several targets in the Czech Republic.
Likewise in neighbouring Slovakia, it came as no surprise to find that in cases where Roma were victims, involving police violence, police ill-treatment of minors, shootings, anti-Roma demonstrations and a number of physical attacks, "the findings revealed problems in the administration of justice in Slovakia."
In Hungary, the police investigation into the wave of neo-Nazi terror in 2008 and 2009, which left nine Romani people dead and dozens maimed, was marred by institutional racism, negligence and stupidity. The police refused to acknowledge that these attacks were linked and racially motivated. When they arrived at the scene of the double murder of Robert Csorba and his five-year-old son Robika, cut down by sniper fire as they fled their fire-bombed house, the police even denied a crime had taken place.
The police and media had previously speculated these attacks were carried out by loan sharks, jealous lovers, or feuding families, instead of investigating known violent far right extremists. By the time the police had conceded that the atrocities were likely linked, and carried out by a four-man cell with military expertise, it was too late to prevent the final assault in August 2009, when gunmen smashed their way into the home of Maria Balogh in the village of Kisléta, murdered her in her bed, and seriously wounded her 13-year-old daughter Ketrin.
The threat from the far-right
More than a decade on, as the few violent racists that were actually convicted for attacks on Roma come up for parole, feigning contriteness, or simply receive presidential pardons, they reenter societies that have become far more receptive to notions of white supremacism and ethnic replacement, and a baffling array of conspiracy theories.
Experts have warned that we should expect more plots and attacks from racially and ethnically motivated violent extremists, including white supremacists and neo-Nazis. The Global Terrorism Index 2023, shows that ideologically motivated terrorism continues to be the most common type in the West, with all 14 ideologically-motivated deaths attributed to far-right terrorism. Vigilance is required to prevent any resurgence of the anti-Roma violence and terror of 2008-2010, and there must be zero tolerance for the hate speech on high that creates a permissive and facilitating environment for lethal forms of antigypsyism.