Segregation and sub-standard living conditions: Romani families stuck in limbo in Moldova
25 April 2022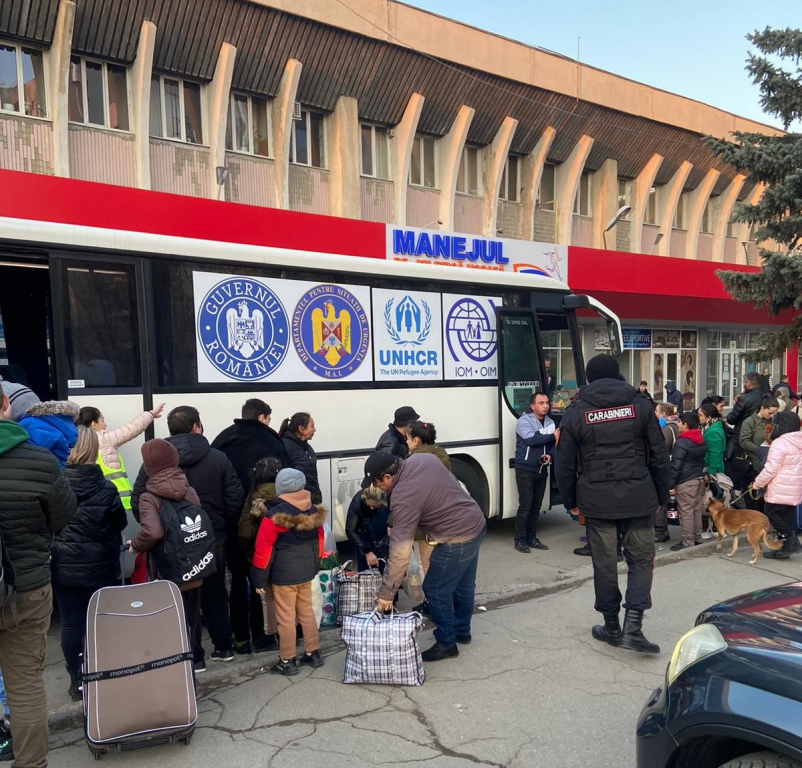 By Viola Popenko
Since the Russian invasion of Ukraine on 24 February 2022, UN Human Rights in Moldova estimate that 421, 130 refugees have crossed the Moldovan border. Among them are thousands of Roma, who have experienced segregation and poor conditions in reception centres, with many lacking documentation which would enable them to travel on to EU countries. The European Roma Rights Centre (ERRC) has visited three refugee accommodations and constantly monitors the conditions and the segregated nature of those established by the Moldovan state.
Manej Sports Centre
In the Manej Sports Arena, based on the information provided by ERRC human rights monitors, in the first days of the Russian invasion around 800 Roma from Ukraine arrived. Several visits to this centre confirmed that this was a segregated facility, where only Roma and small number of people from Turkey and Central Asian countries were accommodated. Due to the limited resources for crisis management in Moldova and the decreasing number of refugees arriving into Moldova, this centre was closed on the 22nd of March 2022. On the 21st of March, the number of Romani refugees remaining in this institution was 200 and all of them were relocated to a study block of the State University of Moldova, in the Faculty of International Relations and Political Science on Nicolae Testemițanu Street. Some Romani families chose to stay in the Manej Sports Arena until the very last moment because there they had hot water and access to food. However, the administration decided to completely cut heating in the last days and those who did not want to move to other reception centres were forcibly evicted by service members.
State University of Moldova Study Block, Nicolae Testemițanu Street
At the university study block on Nicolae Testemițanu Street, it was observed by ERRC monitors on more than one visit that around 90% of the people staying there are of Romani ethnicity. The rest are people originating from Uzbekistan, Azerbaijan, and Turkey, along with a small number of White Ukrainians. The ERRC considers the poor living conditions and over-representation of refugees of Romani background at the campus of the medical university to constitute unequal treatment based on ethnicity. The relocation of Roma to this location continues the apparent policy of segregating Romani refugees which was the case at the Manej Sports Centre. The presence of a small number of White Ukrainians amongst the predominantly Romani population is not a solution which can be considered desegregation.
Segregation is not the only issue the Roma face in the study block of the State University of Moldova. The ERRC has collected several complaints through its human rights monitors that Roma do not have access to hot water and washing facilities, do not have adequate drinking water and are forced to collect water from the toilet, do not receive any medical assistance, and have very poor nutrition resulting in numerous cases of food poisoning amongst their children. One Romani woman described how she fled to Moldova with her children and grandchildren, she has 10 minors in general and all of them had food poisoning after they ate food provided by the reception centre. She also stressed that they are not even provided with bread and receive only several cookies per day, quick-cooking oats, and cold pasta. Another Romani woman from the Odessa region claimed that she did not receive any medical assistance in this refugee accommodation after having a stroke because there is no medical staff there. Even after the ambulance came, nothing was provided and she told an ERRC monitor "they treat us like dogs." A an 11-year-old boy described to the ERRC how when an ambulance arrived to treat him for food poisoning he did not receive any drugs. Romani refugees also mentioned how no clothes were provided to them since they arrived, and many had been wearing the same clothing for 8 days. After discussion between ERRC human rights monitors and volunteers working in the centre, drastic changes were made and the quality of the food that refugees receive has improved.
Municipal Hospital for Tuberculosis
Another location where Roma refugees were accommodated temporarily was a municipal hospital for tuberculosis. In recent years, it was also used for treating COVID-19 patients. Despite the relatively good conditions there, it was closed at the end of February 2022. ERRC human rights monitors have been unable to locate the almost 120 people Romani refugees who were accommodated there. It is assumed that many continued their journey on to Romania and other EU countries beyond through buses organised by the state. Some have reportedly decided to find other means of accommodation in Moldova, and some have decided to return to Ukraine.
Amidst Segregation and Poor Conditions – Fewer Roma are Choosing Moldova
The ERRC has received information from human rights monitors in both Ukraine and Moldova that the number of people crossing the Moldovan border is declining. At the very beginning of the crisis, Moldova was a destination for asylum seekers without documents. Those who had documents and the financial means could go directly to EU countries, but some also passed through Moldovan territory as a transit zone to Romania and other EU countries. The majority of those without documents who were stranded in Moldova were Roma. While many remain there, some have chosen to return to Ukraine rather than remain in the refugee reception centres described above. The reasons for returning depend on personal circumstances, but the far from dignified conditions and treatment in segregated reception centres in Moldova cannot be discounted. Monitors report that some people are returning to Ukraine because they believe the war will soon be over, choosing to travel to Odessa or the Odessa region (territories without ongoing hostilities). For many Romani refugees, returning to Ukraine is their only option as without adequate support from the state, they do not have the finances to remain in Moldova.
Roma forced to choose between returning to Ukraine, or remaining in segregation and desperate conditions in Moldova
Issues still persist for those who do not have valid documentation for their children to flee farther and settle in EU countries. Many Romani families have also been faced with the potential breakup of their family groups as some family members lack the documents necessary to enter the EU. This means they are practically left with only two options: stay in terrible living conditions in Moldova, or return to the uncertainty of a war-torn Ukraine.
Moldovan officials have informed the ERRC that placement centres for Ukrainian refugees are being closed because of a lack of applicants and the number of refugees seeking asylum in the country is declining rapidly. The reason for this is the poor financial, informational and legal support that Moldova can provide in contrast to EU countries with much more developed schemes of temporary protection for refugees.
The ERRC continues to provide aid and legal support to Romani refugees crossing into Moldova and Romania, and will continue to monitor the situation for those Roma who have remained in Moldova.