Hungary: A short history of segregation
16 July 2015
This short history of segregation and its challengers shows that there is nothing incidental or accidental about the practices that perpetuate school segregation and inequality in Hungary. It is deliberate, knowing and systemic. And that is why it's time for the EU to intervene to challenge ethnic discrimination in this illiberal democracy.
Outside the Supreme Court Gábor Daróczi, CFCF board member, describes the judgment as "apartheid under the aegis of religious freedom." (Photo credit: Bernard Rorke)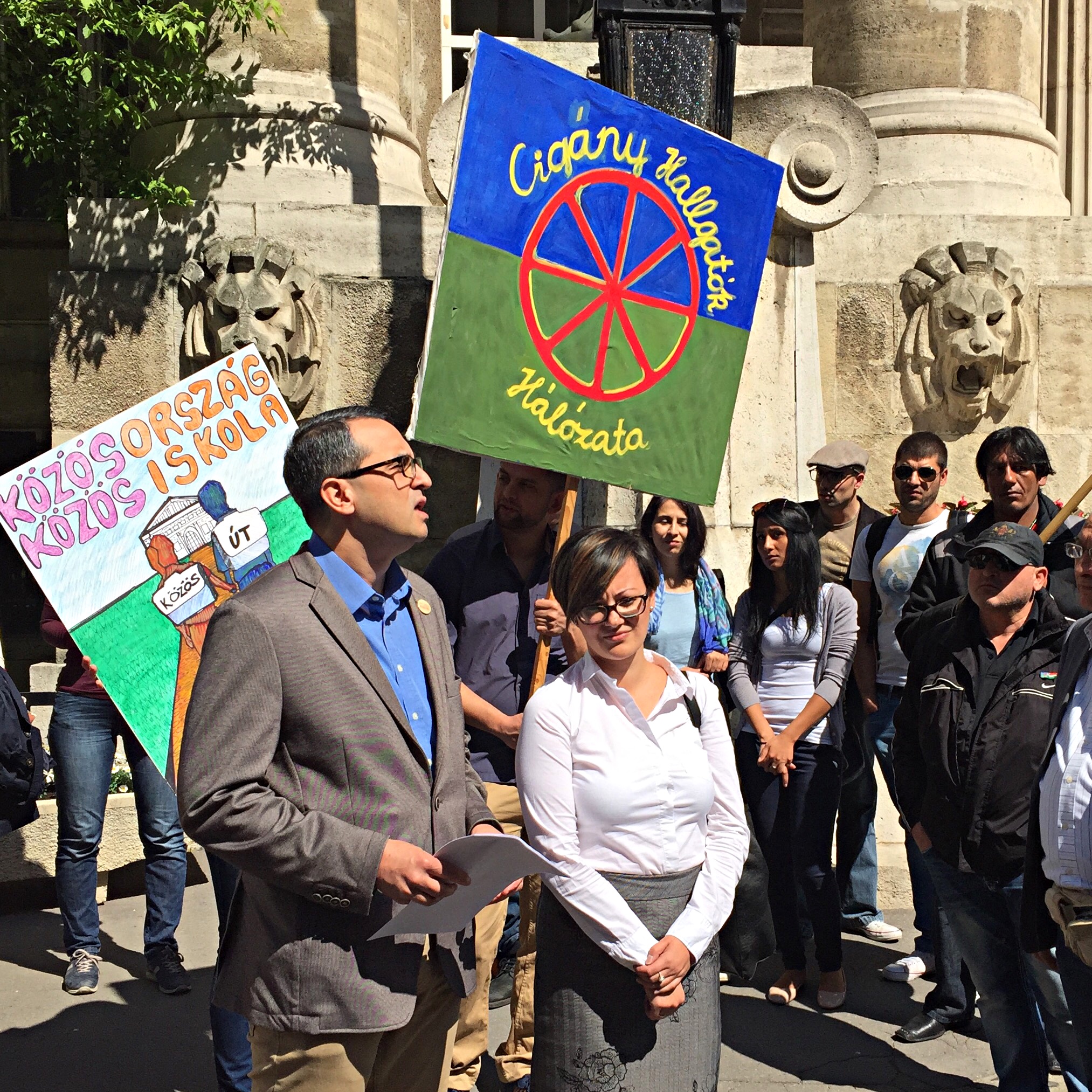 In socialist Hungary, back in 1978, Zita Réger described so-called catch-up classes for Roma children as a damaging and unacceptable form of segregation.1 It beggars believe in light of what was known then, and what we know now, not only that school segregation still persists, but that in April 2015 Hungary's Supreme Court (Kuria) delivered a judgment that effectively declared segregation of Roma pupils legal in religious-run schools.
The European Commission in its June Communication on the EU Roma Framework called for an end to school segregation; noted that Hungary has a higher percentage of marginalized Romani children in segregated classes (45%) than Bulgaria (29%), the Czech Republic (33%), and Romania (26%); and has declared its intent to use all means at its disposal to fight against discrimination, including infringement proceedings.
The Supreme Court ruling effectively put the seal on segregation for there is no further avenue of legal appeal within Hungary. The European Commission has already initiated infringement proceedings against the Czech Republic and Slovakia for segregated schooling. It's time to take action against Hungary.
This brief perusal into the ERRC's archives shows that there is nothing incidental or accidental about the practices that perpetuate segregation and inequality. This is about deeply embedded institutional racism, buttressed and legitimized by popular prejudice. This short history of segregation and its challengers makes it clear that denying Romani children equal access to integrated quality education is deliberate, knowing and systemic. And that is why it's time for the EU to intervene to challenge ethnic segregation in this illiberal democracy.
Catch-up classes are a 'dead end street' (1978)
In the summer of 1976, in the pages of the weekly Élet és Irodalom (Life and Literature) a heated debate ran about the rights and wrongs of 'Gypsy classes' and 'Gypsy schools'. The purpose of such separate arrangements was described in a government decree in 1962: "to make it possible for the pupils to continue their studies successfully in normal classes after one or two years."
Reporting on her study Zita Réger concluded that so-called Gypsy classes are a dead-end-street: "the fact that the isolation of the children is apparently a permanent state of affairs even aggravates the problems: not a single pupil originally placed in a 'Gypsy' class has been later directed to attend the 'mixed' classes over the years." She warned that policy approaches which sought to make children's education in segregated groups permanent are not only unacceptable, but "are and will be an obstacle to Gypsy people's integration into society."
Back in the 1970s Réger warned that disadvantages and isolation should not be reinforced within the school environment and concluded "that it would be possible to achieve incomparably better results in the education of Gypsy children if the authorities concerned decided to spend the amounts that the maintenance of permanent Gypsy classes which often bring about discouraging results cost on the organization of intensive pre-school education, health and social care and coaching programs." Nearly 40 years later this message has yet to sink in.
Separate graduation ceremonies: apartheid in Tiszavasvári (1997)
In June 1997 the Hungarian weekly Magyar Narancs revealed that a primary school in the northeastern Hungarian town of Tiszavasvári held separate graduation ceremonies and had separate dining facilities for Romani and non-Romani children. With the assistance of the Foundation for Romani Civil Rights in Budapest, 14 Romani youths sued the school. Romani pupils were confined to auxiliary buildings three hundred meters away from the well-equipped main building. The submission to the court described the auxiliary buildings as being in very bad repair: "apart from benches and blackboards, there is no educational equipment. The most disgraceful form of apartheid here is that Romani children are forbidden to buy food in the school buffet and are not allowed to use the gymnasium." Romani and non-Romani children in the school had been separated in this way for eleven years. The Ombudsman for National and Ethnic Minorities found the ban on the use of the school's gymnasium is objectionable, and that while discriminatory intent could not be proven, holding separate graduation ceremonies resulted in discrimination.
On 1 December 1998, the City Court of Nyíregyháza declared that the personal rights of the Romani children of Tiszavasvári had been violated and ordered the local government to pay 100,000 HUF (about 500 USD) to each child in damages and court costs. Aladár Horváth, president of the Foundation for Romani Civil Rights which represented the children said: "I think that the verdict has a precedent value. This is the first verdict in a case of discrimination in the education of Romani children."
Separate, unequal and racist: snapshots (1997-2002)
In an interview in November 1997, Annamarie Kovács, a primary school student from Dömsöd told ERRC:
Our form teacher Ms C came to punish us for laughing at the math teacher. She told us, 'You stinking little Gypsy whores, you're not in Tókert [the name of a large Romani settlement in Dömsöd]!' Everyone heard it - she said it in front of our whole class. Ms C said all sorts of other bad things about us and she slapped Anita, the other Romani girl in our class, on the face. Then she told us to go home. I didn't go to school for about a month after that - why should I? I won't go someplace where they humiliate me like that. The head-teacher didn't know about the incident though, and the school wanted us to pay a fine because I didn't go. So my mother went to school and explained why I hadn't gone. Still, nothing happened to that teacher. She wasn't reprimanded and she never apologized. I started to go to school again, but I didn't go to Ms C's classes and they failed me because of absences.
On 7 January 1999, Miklós Újvári in an editorial in the weekly Magyar Hírlap wrote that in the previous year 146 Hungarian citizens were given refugee status in Canada and that as long as "the separation of Roma and non-Roma is a continuous practice at schools, offices and dwelling places, this state will not be free, democratic and happy".
On 27 August 1999, ERRC sent a letter of protest to Zoltán Pokorni, the Hungarian Minister of Education, about the presentation of a state award to the Director of the Dr. Földi Janos Primary and Art school, which separates Romani children in poorly equipped classrooms: "Not a single Romani child attends the central building which is best equipped." The letter noted, "In 1998, the municipality of Hajdúhadház received HUF12,186,000 (€39,123) from the central state budget as a minority complementary aid which without parents' consent is continuously used for creating segregated classes."
On 6 September 1999, the Minister of Education Pokorni openly stated that segregation exists in the Hungarian education system, at a press conference held jointly with Mr Jeno Kaltenbach, the Parliamentary Ombudsman for Ethnic and Minority Rights. A report by the Ombudsman's office described the large percentage of Romani students in special schools as a sign of prejudice and the failure of the public education system. The report concluded that the system of 'special schools' serves the purpose of excluding socially disadvantaged children from normal public education.
In October 2000, following reviews by experts and Hungarian Romani organizations, the Ministry of Education has removed the fifth grade textbook Humans and Society from the curriculum. The book stated that "a major part of the Roma could not or would not lead a European lifestyle," and "the life of a part of the Roma is marked by crime." The book also charged that the Roma spied for the Turks during the approximately 150 years of Turkish rule in Hungary after the sixteenth century, and that they acted as henchmen at the executions of Hungarian historical figures.
The Roma Press Center reported that on 21 February 2001, a biology teacher in the primary school in Erdőtelek, northeast Hungary, forced 8th grade Roma pupils to write down that "the Gypsies can be characterized by high rates of unemployment and by their special odour," and taught them that 80% of the prison population is Romani. The local mayor stated that the teacher's comments about the special odour of the Roma was not equivalent to saying that they smell unpleasant.
On 11 April 2002, the Ombudsman Mr Jenő Kaltenbach declared that the segregation of Romani students at a primary school in Verpelét in Heves County in north-eastern Hungary was unlawful. Mr Kaltenbach had also noted that the school had been unlawfully applying for and receiving "supplementary ethnic funding" - a government grant intended to facilitate the development of Romani students and enhance school curriculum to strengthen Romani identity, and knowledge of Romani culture, history, and language.
The UN Committee on the Elimination of Racial Discrimination issued Concluding Observations on Hungary on 16 September 2002, and expressed its concern "about discriminatory practices resulting from the system of separate classes for Roma students and from private schooling arrangements" and recommended "that new programs integrate Roma children into mainstream schools". The Committee strongly recommended "that the State Party reconsider allocating Roma children to schools and classes for mentally disabled."
Jászladány: 'whites-only schooling' (2002-2003)
The Jászladány local government in Szolnok county announced that it intended to open a private school in September 2002 for students "who are indeed willing to study," reportedly in order to provide schooling exclusively for non-Romani children. The announcement followed an earlier statement by Jászladány Mayor Mr István Dankó that "peoples who bear different cultures cannot be locked up together by force, so the best way to avoid confrontation is to set up alternative institutions."
On 30 August 2002, the Jász-Nagykun-Szolnok County Administrative Office reversed the decision of the Jászladány local government to designate eleven classrooms in the local primary school as private schooling, on the grounds that such classes were unlawful. The Jászladány local government, widely criticized for attempting to provide 'whites-only schooling' was forced to re-enroll the 205 children in the public school and re-hire 12 teachers who had left to teach at the private school. However, the daily newspaper Népszabadság reported that the students previously enrolled in the private school started the school year in separate classes within the public school.
Approval for the 'private school' went ahead following local government and Roma Self-Government elections held on 17 October 2002, when non-Romani voters elected the mayor's wife and three other non-Roma into the new Roma Self-Government in Jászladány. The Mayor's efforts had initially been thwarted by the veto of the previous Roma Self-Government, dominated by Romani representation. The day after the elections on 18 October 2002, the Jász-Nagykun-Szolnok County Court decided in favour of the local government in its bid to open a private school.
On 27 July 2003, the school received its permit: At this time, 227 children had already expressed interest in attending the school, which reportedly has space for 250 pupils. On the same day, Open Society Institute offered financial support to the parents of 101 Romani children. The parents submitted written requests stating that they wished to enroll their children, but were told that there were no spaces available. On 1 September 2003, 207 children started the school year, but none of them were Romani.
On 16 September 2003, the Ombudsman, Mr Jenő Kaltenbach, stated that the private school established in Jászladány was unconstitutional, and should not have received a license because the basic premise of the school is to discriminate against and segregate the Romani school children in Jászladány.
Desegregation (2002-2003)
Bálint Magyar, the Hungarian Minister of Education, appointed Viktória Mohácsi, a 27-year-old Romani woman, as Commissioner for the Integration of Roma and Disadvantaged Children in July 2002. In an interview in Népszabadság on 5 August 2002, Mohácsi stated that she wanted to see the elimination of pervasive inequalities in education, and criticized the system of supplementary allocation of funds to public schools for so-called 'catch-up classes', which in practice further disadvantage Romani children: "According to researchers, pupils attending catch-up classes fall so seriously behind compared to their peers in normal classes that, by sixth grade, it is already impossible to integrate them into so-called normal classes."
The Roma Press Center reported on 11 October 2002, that the Ministry of Education had begun the process of setting up National Integration Centres and Networks in fifty-three regions to provide support to disadvantaged students, work to close down segregated classes, and stop Romani children being sent to 'special schools'.
On 29 October 2003, ERRC reported that Hungarian Ministry of Education has formulated a strategy to remedy the over-representation of Roma and other disadvantaged children in schools and classes for the mildly mentally handicapped. The strategy cited the Ombudsman's report that there were some schools where the single written reason given in assessment requests suggesting the children are disabled, was their being 'of Romani parentage'.
Strategic litigation (2004)
In a major test case, on 7 October 2004 the Budapest Metropolitan City Court of Appeals upheld the first instance county court decision which ordered the primary school and the local governments of Tiszatarján to pay damages in the amounting to approximately €14600 euro to nine families whose children had been unlawfully kept in a segregated class and taught based on a special (inferior) curriculum from 1994 to 1999, in the absence of any prior certification declaring them unable to attend regular classes.
The complaint, filed in 2001 by attorney Lilla Farkas as part of a joint strategic litigation project was based on the school psychologists' assessment that rather than being afforded additional support for their learning difficulties, it was "in the children's own best interest" to be placed in a special class for the mentally deficient. The Court of Appeals concluded that the segregation was in breach of the Hungarian Public Education Act, and stressed that as a result of this practice the plaintiffs have suffered and will continue to suffer profound psychological harm.
Another legal victory (2006)
The non-governmental organization Chance for Children (CFCF) announced on 9 June 2006 the Debrecen appeals court overruled a negative first instance judgment in a case brought against the segregated education of Romani children in a school in the northeastern Hungarian city of Miskolc. The Court found that a decision that integrated seven schools without simultaneously redrawing the catchments areas of Miskolc upheld the segregation of Romani children, thus violating their right to equal treatment based on ethnic origin. The court ordered local authorities in Miskolc to publicize the finding through the Hungarian Press Agency.
European Court rules on Horváth and Kiss v Hungary (2013)
The European Court of Human Rights upheld the complaint brought by CFCF and the ERRC, who represented Mr Horváth and Mr Kiss, that their placement in a 'special' school amounted to ethnic discrimination in the enjoyment of their right to education. Following the European Court of Human Rights ruling against Hungary, CFCF attorney Lila Farkas said:
I welcome this judgment on behalf of my clients, who were seeking a finding that they belonged in mainstream education and who faced stigma as a result of their misdiagnosis. At a more structural level, this judgment clearly states that the misdiagnosis of Romani children and their placement in special schools leads to their isolation and racial segregation. The Court has also spelt out that Hungary – and other States Parties - have a duty to implement positive measures in order to avoid structural discrimination.
Conclusion
What is disheartening about this brief chronicle is that between 2002 and 2008 Hungary had begun to make serious progress on school desegregation and was more and more cited abroad as 'a good practice' in progressive policy making. The Law on Education was amended in 2003 to include a ban on segregation in schooling, and a ban on direct and indirect discrimination in education was included in the anti-discrimination law adopted by Hungarian parliament in December 2003.
In its submission to the European Commission in April 2004, the ERRC stated, "the recent legal and policy amendments aiming to combat racial segregation in schooling in Hungary are to be welcomed. They constitute among the most far-reaching and innovative policies on Roma anywhere in Europe."
Since then, inclusive education has been of one the casualties of Hungary's lurch to the authoritarian right, and the ERRC's submission to the European Commission nine years later on April 2013 reflects how much ground has been lost to the forces of reaction.
It reports that segregation in special education and mainstream schools persists; that in face of the government's reluctance to desegregate schools, the ERRC and CFCF have had to continue to press forward with strategic litigation to challenge school segregation, and the wrongful placement of children in special schools. Research conducted by the ERRC and CFCF revealed that in Heves County, 98% percent of the children studying in special education are Roma.
The latest decision by the Kuria in exempting the Greek Catholic Church from anti-discrimination provisions in law, and the role played by the Minister for Human Resources in championing the Church's right to run a segregated school, and proclaiming his blind faith in 'catch-up classes', shows that there may be even less justice about when Christ and Caesar are hand in glove. In its latest communication the European Commission declared its intent to use all means necessary to challenge school segregation in Member States. Hungary here and now is a good place to start.
Endnote:
1 Zita Réger Gypsy classes and 'mixed classes' – in view of the facts, Valóság, 1978/8