North Macedonia's Serious Problem with Police Brutality Against Roma
15 February 2023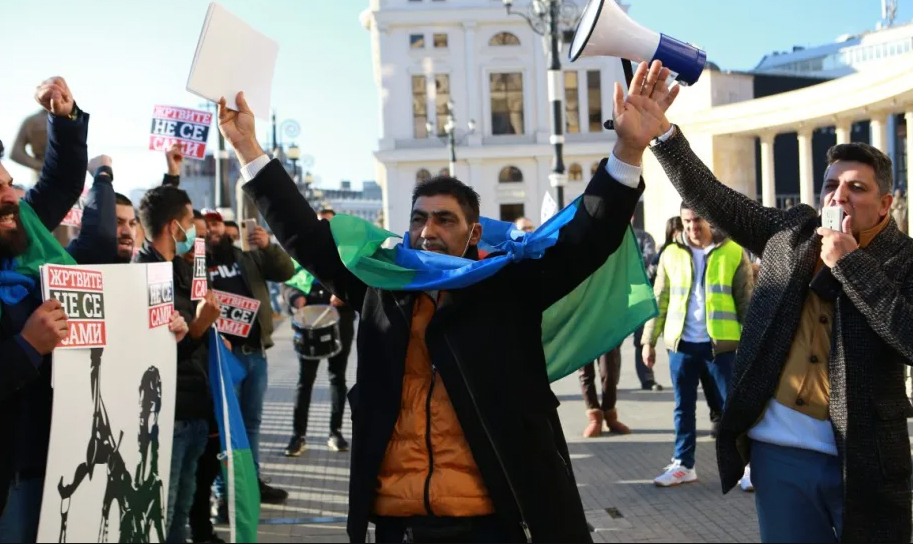 On Saturday 3rd July 2021, Romani man Nevzat Jasharov (pictured above) marched through the streets of Skopje, North Macedonia with his fellow Romani citizens against racialised police brutality. The protest was in response to the death of a Czech Romani man, Stanislav Tomas, who died after police intervention in the Czech town of Teplice. Video footage of the incident showed a police officer kneeling on the back of Stanislav's neck; scenes disturbingly reminiscent of the police killing of Black American George Floyd in June 2020.
"Nearly two years later, the officer caught on camera kicking Nevzat while he was on the floor has become the first police officer in North Macedonia to face a prison sentence for police brutality.
Nevzat joined the protest draped in a Romani flag, as someone who less than a year earlier had himself been the victim of severe, unprovoked racist violence by Macedonian police officers. In September 2020 he was involved in a car accident in Bitola at around one o'clock in the morning, alongside his son and another relative. Nearby police officers, after witnessing the car crash into a wall, dragged the three injured Romani men from their car and proceeded to beat them in the street. They fractured Nevzat's cheekbone, caused internal bleeding in one of the other two passengers, and left all three unable to stand. The attack was partly caught on camera by a nearby witness who uploaded the video on social media, from where it was widely shared by Macedonian news outlets. The Romani men were later taken back to the local police station where they were racially abused and further beaten until finally being released at around five o'clock in the morning.
Nearly two years later, the officer caught on camera kicking Nevzat while he was on the floor has become the first police officer in North Macedonia to face a prison sentence for police brutality. On Monday 30th May 2022 the Basic Criminal Court of Skopje handed down a judgment, confirming its previous judgment of October 2021, finding the police officer guilty of Harassment in the Performance of Duty and sentencing him to one-year imprisonment. Until now, the established practice had been to give suspended sentences to offending police officers. This judgment changes that routine. The police officer known only as G.P. was sentenced to prison for acting in a way that humiliated the Romani man's "human dignity" after the court heard evidence from a medical doctor and witnesses to the crime, as well as seeing the video footage of the incident. Whilst this is a positive move, it is still only baby steps for a country that has a major issue with racialised police violence against Romani people.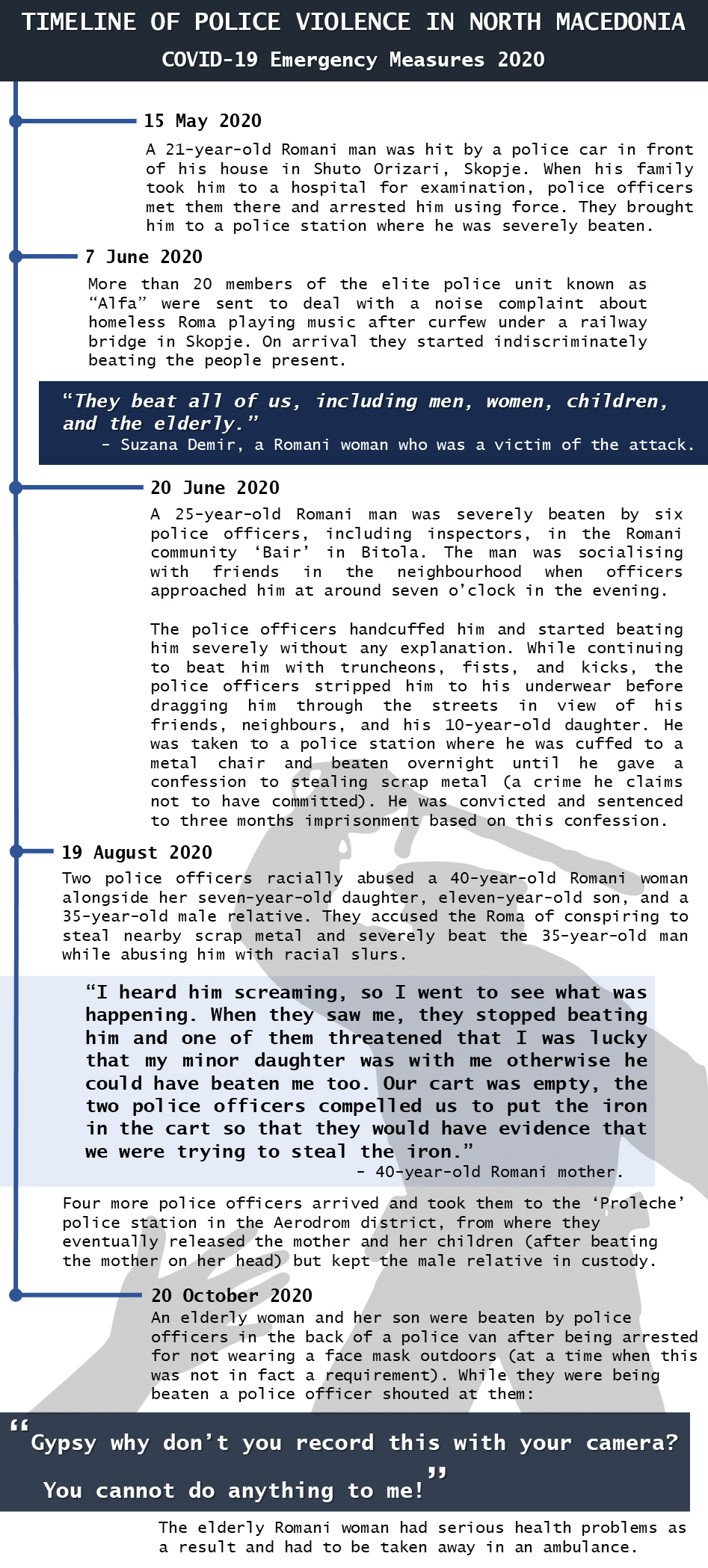 A CATALOGUE OF RACIAL VIOLENCE, DEGRADING TREATMENT, COLLECTIVE PUNISHMENT, AND ETHNIC KILLING
For a state comprising just 1.8 million people, the extent of police violence against Roma in North Macedonia is truly alarming. It is not only the regularity of police misconduct (although the frequency of cases is not inconsiderable), but also the character of the misconduct which is extreme. In recent years Macedonian police have beaten Romani children unconscious in police station cells, sent armed, elite forces units to violently assault homeless Roma, and beaten elderly Romani women senseless in police custody.
In 2020, police violence against Roma was brought into sharper focus as a result of the COVID-19 emergency measures, which saw a spate of incidents of police misconduct and discriminatory treatment of Roma in North Macedonia.
Darker still are the deaths caused in recent years by Macedonian law enforcement or criminal justice enforcement agents: Trajan Bekirov in 2006 – a 17-year-old Romani boy who was last seen alive being chased by 'Alfa' police officers, before his dead body was discovered in the Vardar River, downstream of Skopje; a 19-year-old Romani man known only as R.A in 2010 – died in Gevgelija Prison after being medically neglected; Bekim Demir on Christmas Day 2017 – a 39-year-old Romani man who died suspiciously on Christmas Day 2017 in Idrizovo Prison, just days before he was set to be released, after weeks of violent racist abuse by prison guards. Bekim's family received a call from him on the day he died. He told them he was having difficulty breathing after the prison doctor gave him two injections which made him feel paralyzed. He asked his family to come to the prison to save him; Sutkie Mustafova in 2017 – a 46-year-old Romani woman from Strumica who died suspiciously due to apparent medical neglect in Idrizovo Prison; Andrias Redjepov in 2017 – a 21-year-old Romani man who died in Idrizovo Prison amidst accusations he was beaten and tortured to the point of death; Jusinov Erdal in 2017 – a 25-year-old Romani man, and father of a 3-year-old boy and 1-year-old girl, who died in Shtip Prison. Jusinov was allegedly mistreated and beaten by guards, denied food, had medical treatment withheld, and was refused emergency treatment in the four hours prior to his death.
RACIST POLICING SPEAKS TO A MUCH DEEPER ROT IN THE CRIMINAL JUSTICE SYSTEM
"Brutality by law enforcement and security agents in North Macedonia is but one symptom of a corrupt criminal justice system which is institutionally racist towards Romani people.
Brutality by law enforcement and security agents in North Macedonia is but one symptom of a corrupt criminal justice system which is institutionally racist towards Romani people. In November 2020, the European Roma Rights Centre (ERRC) won a case against North Macedonia at the European Court of Human Rights (ECHR) on account of the state's failure to conduct effective investigations into allegations of police brutality against Roma. The incident dated from 19th May 2014, when an "Alfa" special police unit arrested two Romani boys ages 16 and 13 for a mugging of a young woman which had taken place in the area. They were beaten in the street before the 16-year-old was taken to a police station in Skopje where he was beaten further with truncheons for several hours. The 13-year-old boy was slapped across the face in the street by a police officer who shouted: "you Gypsies, you lie and steal!". The father of the 16-year-old was summoned to the station in order to coerce a confession from the boy, who was told: "find the bag or I'll kill you in front of your father." He signed a confession under duress stating that he had stolen a handbag from a twenty-year-old woman earlier that evening.
In the subsequent investigation, the police inspectorate dismissed any wrongdoing against the officers responsible. Criminal complaints to the Public Prosecutor went similarly uninvestigated. Civil complaints to the court were also dismissed. Without the November 2020 ECHR judgment, there would not even be this small measure of justice for the young Romani men who were the victims of this violent hate crime committed by Macedonian police officers. The European Court has ruled against North Macedonia in numerous, similar judgments going back over a decade: on 15th May 2007, on 10th July 2008, on 24th July 2008, and most recently on 24th June 2021.
Research published by the ERRC in March 2022 included interviews with Macedonian defence lawyers who spoke of an unequal system which breeds distrust amongst Roma in the country. One lawyer said: "Roma do not believe in the criminal justice system because for them, there is no thorough investigation into their cases, not all evidence is taken into consideration and, in most cases, they end up with adverse convictions."
Whilst prisons and youth offenders' institutes fill up with Romani inmates, Roma themselves describe the process by which police misconduct and a corrupt system work hand-in-hand to discriminate against them. Most of the Romani interviewees in the ERRC research described being subjected to verbal racist abuse and physical intimidation by the police. One described the frequent neighbourhood roundups of Roma after reports of a crime, particularly recalling being taken into custody for questioning and told: "If you refuse to plead guilty during the interrogation process, then a police officer will force you to do so by slapping you in the face and beating you, and you will end up in pre-trial detention."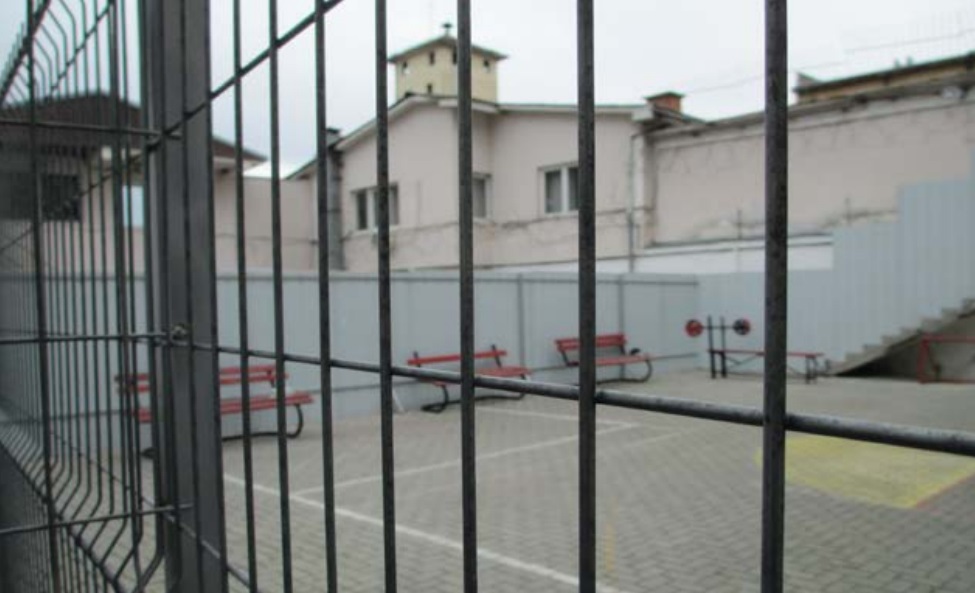 The ERRC's research and recent cases show little has been done to prevent racist police violence since 2015, when the UN's Committee Against Torture expressed concerns over the excessive use of force by police against Roma.
A RECKONING IS COMING FOR POLICE IN NORTH MACEDONIA
The police officer who beat Nevzat Jasharov in September 2020 would most certainly not have faced any consequences had the violence not been caught on camera. Nonetheless, his sentencing to real jail-time (rather than a suspended sentence) remains one of only a handful of cases across Europe in which a police officer has faced criminal prosecution for brutalising a Romani person. That alone must be viewed optimistically as a sign of slow, but sure, progress in North Macedonia. It is also emblematic of societal engagement with police brutality in the country. Not only was the incident filmed by a bystander and shared widely on social and traditional media platforms, but it also sparked protests from both sides. While Roma protested against police violence, citizens in Bitola joined police officers to march in direct support of the accused police officer. This is, in an obtuse way, encouraging. Public debate, media coverage, court cases, protests and counter-protests – these are all societal growing pains. It is the result of a light being shone on the country's perverse and perfidious criminal justice system for the first time, and a society that is uncomfortable with what it finds.
The Macedonian state has already paid out settlements for several European Court cases brought relating to prison deaths of Romani inmates, and a number of high-profile police brutality cases continue to attract headlines and cost tax-payer money. In the case of Nevzat Jasherov, it is a shame that the clear aspect of racial hatred was not brought up in the arguments to the court on this occasion (with the officer only being found guilty of the excessive use of force rather than the more serious aggravating factor of racial hatred). Nevertheless, this case is huge in the context of this small Western Balkan country. It sends a message to racist cops at home and abroad: one down, many more to go.
---
* Originally published in the Norwich Radical
* Featured image via Avaja