Just 16 and shot in the head: Romani boy the latest victim of racist policing
07 December 2022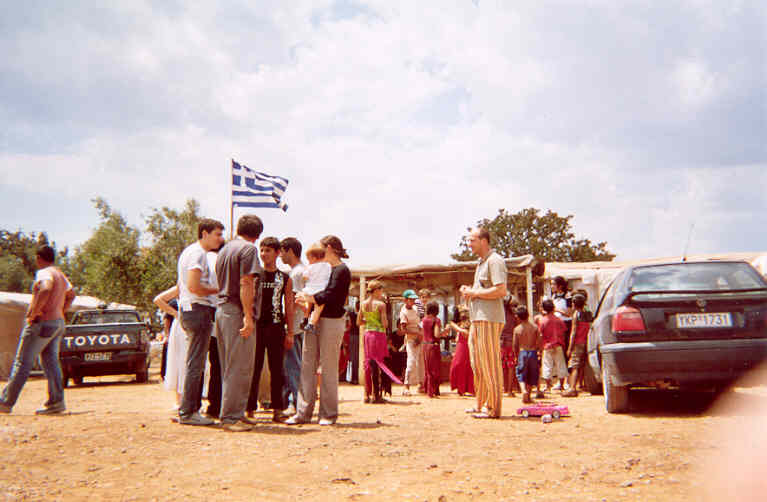 On Tuesday, scuffles broke out between protestors and police outside a courthouse in Thessaloniki where a police officer appeared before the court on a felony charge of attempted manslaughter, for shooting a 16-year-old Romani boy in the head after he allegedly failed to pay a €20 gas station bill. The victim remains in critical condition in a Thessaloniki hospital.
In the immediate wake of the shooting, about one hundred Romani men erected barricades and set fire to rubbish bins outside the hospital, and 1500 protestors clashed with police in the streets of Thessaloniki. Not many there credited the official claim that the victim's actions had "placed the lives of the police officers in immediate danger."
For this comes just one year after Greek police shot dead an 18-year-old Romani youth Nikos Sabanis, and seriously wounded another teenager in a car chase outside Athens. Between 30 and 40 shots were fired by as many as seven police officers. The police press release after the incident claimed all of the officers sustained injuries, that the deceased was 20 and had a criminal record, and that the minor who was shot only had light injuries.
These claims were all later proven to be false – no police officers were injured, the victim was 18 and had a clean record, and the 16-year-old was seriously injured. Audio recordings revealed that the officers were aware that the occupants of the vehicle were Roma.
A catalogue of violence against Roma
The outrage that followed the tragic death of the young Romani man Stanislav Tomáš under the knee of a 'restraining' Czech police officer in the town of Teplice in June 2021, should have been a wake-up call for European and national authorities to get serious about tackling racist policing, rights abuses and justice denied for Roma.
However, the official denials and the Prime Minister's disparagement of the victim as somebody who was not 'normal or respectable', followed by the dismissal of all charges against the officers, suggested that Europe's reckoning with racial justice remains a long way off – and 2022 brought no respite, but rather more incidents and evidence of police brutality against Roma.
In late November in Italy, it was announced that four police officers will face charges of torture, giving false testimony and attempted murder following a house raid, which left a 36-year-old Romani victim in a coma. Hasib Omerovic, who has been deaf since birth, sustained serious injuries when he 'fell' nine metres from his bedroom window during an unauthorised police raid on his apartment on 25 July 2022.
On the 7 July 2022, the European Court of Human Rights (ECtHR) awarded a Romani applicant €19,500 following an incident back in 2014, when he was assaulted and racially abused by Hungarian police officers. The ECtHR found in multiple cases that Hungary had violated the right to life or the prohibition of torture when failing to carry out adequate and effective investigations into allegations of ill-treatment by police officers, including failure to investigate possible racist motives.
On 2 June 2022, the Slovak Government reached a friendly settlement agreement in the ECtHR with eight Romani men who were brutalised by police officers in 2013 during a notorious mass police raid on a Romani community in Moldava nad Bodvou. ERRC Operations Director Marek Balaz described the almost decade long struggle for justice:
"The real story is one of a completely botched internal investigation of the raid; scapegoating of the victims by prominent politicians; deliberate obstruction of the Ombudsperson's investigation; blocking victim testimonies at the parliament; and finally adding insult to grievous injury, by charging some of the victims with perjury. These are some of the essential ingredients of a case where the combination of corruption, lies and racist malice beggar belief."
Right across Europe, week in and week out, ERRC gets reports of police misconduct against Roma: of collusion between law enforcement and far-right paramilitaries; ethnic profiling, harassment and over-policing in one district, and under-policing by deliberate failures 'to serve and protect' in another; mass raids on Romani neighbourhoods, and serious injuries even deaths resulting from beatings in custody or during arrest. The emergency lock-downs due to Covid-19 witnessed an upsurge in incidents of police brutality against Roma, most notably in Bulgaria, Romania and Slovakia, where a considerable number of actions taken by law enforcement in policing the pandemic constituted cruel and inhumane behaviour.
Brutal, bigoted and unashamedly racist
Police racism against Roma is pervasive right across Europe, and the European Institutions just don't want to talk about it. Infamously, in the wake of the Black Lives Matter protests in June 2020, European Commission Vice-President Schinas claimed that Europe does not have issues "that blatantly pertain to police brutality or issues of race transcending into our systems", and that because of the "European tradition for protecting minorities, we have less issues than they have in the States".
Commissioner Schinas's myopic intervention about that 'European tradition' came just days after a 14-year-old Romani boy sustained a fractured eye socket and four broken teeth in the course of being detained by French police. The boy, Gabriel Djordjevic told reporters, "There were four of them. One of them put handcuffs on me and put his knees on my back. A woman [officer] held my feet while a bearded police officer kicked me in the face."
ERRC's research and caseload reveal the extent to which anti-Roma racism is endemic and systemic within police ranks. Rather than being the case of a few "bad apples" law enforcement agencies are saturated with antigypsyism. The ERRC's report Brutal and Bigoted comprises a catalogue of official lies and botched investigations, testimonies concerning incidents of excessive, arbitrary, and sometimes lethal violence against young and old, deliberate attempts to discredit and intimidate victims, and protracted struggles through the courts for remedy, where justice for Roma is often denied and always delayed.
For more on this see the ERRC report: Brutal and Bigoted: Policing Roma in the EU